Five Star Delivery & Catering
With Al Buco's catering & delivery service, your event will have impeccable taste!
We specialize in traditional island and southern Italian cuisine, with strictly homemade Mediterranean dishes prepared with the freshest and highest quality ingredients. Choose the menù which best suits your taste and style!
We offer finger food for cocktail parties, grilled vegetables and traditional dishes like ravioli capresi, fish and seafood, and - to end in style - local desserts including torta caprese. We pair the most prestigious regional, Italian, and international wines with each dish, chosen from our stock at Al Buco's wine shop. We also offer a vast selection of champagne and traditional liqueurs, including the classic Limoncello caprese.
What are you waiting for? Make your party, event, anniversary, or wedding reception a guaranteed success with the experience, quality, and skill of Al Buco catering!
Our Specialties
Ravioli capresi
Wood-oven fired pizza
Fried finger foods
Grilled vegetables
Fish and seafood
Insalata caprese
Marinated salmon
Savory tarts
Seafood salad
Chicken involtini
Parmigiana
Torta caprese
Fruit tarts
Chocolate beignets
Do you want to sample the specialties at Al Buco? Stop by our take out in the center of Anacapri! You can try our fried finger foods, salads, and wood oven fired pizzas: the Italian take away for a Mediterranean lunch or dinner at home.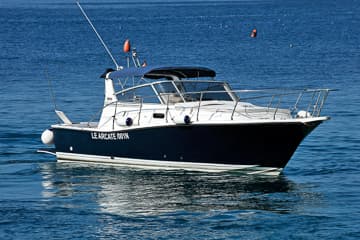 Catering & delivery on board your boat
Dine with the canopy of stars above and the sound of the surf below! With Le Arcate Boat's delivery & catering service, you can have your meal delivered to your craft or book our comfortable and elegant speedboat for a gourmet dinner sail around the island of Capri.
Al Buco Food & Wine
Via Tommaso de Tommaso, 32 - 80071 Anacapri
+39 081 837 1970
Open from 10 am to midnight
Email: arcate@capri.it