Al Buco Gourmet Shop: a boutique of taste
Take the flavors you have discovered and fallen in love with on Capri home with your!
Al Buco has a gourmet shop which stocks the best local products to purchase directly or to have shipped to your home with Postemailbox. Extra-virgin olive oil, pasta from Gragnano, homemade jams and confits, anchovies, and marinated vegetables: stock up on the most unforgettable flavors from southern Italy.
Al Buco's wine shop carries an excellent variety of the most prestigious regional, national, and international labels, in addition to traditional liqueurs like the famous Limoncello di Capri.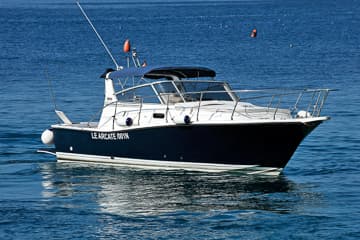 Catering & delivery on board your boat
Dine with the canopy of stars above and the sound of the surf below! With Le Arcate Boat's delivery & catering service, you can have your meal delivered to your craft or book our comfortable and elegant speedboat for a gourmet dinner sail around the island of Capri.
Al Buco Food & Wine
Via Tommaso de Tommaso, 32 - 80071 Anacapri
+39 081 837 1970
Open from 10 am to midnight
Email: arcate@capri.it